OK, I have chosen my college… so what do I do now?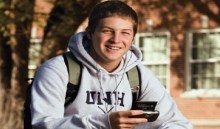 Once admitted students have accepted an offer of admission, (by paying their deposit) they will need to register for new student orientation at their college. This (often two-day) event allows incoming freshmen to meet with an academic adviser, create their class schedule, get their VCU ID card and meet other incoming students. Overnight accommodations are often provided on-campus in a residence hall for students, if it is a two day event (even if a student plans on living at home, they should stay overnight for this one thing! Parents and guests will need to make separate overnight arrangements.
Once classes have ended for the year, students must submit final official high school transcripts to the Office of Admissions. The Guidance office would like you to come in and verify where you are going to college so we can be sure to send the final transcript to the right place!
By the start of classes, all students must submit their immunization forms completed by their primary care physician. This form can often be found in the acceptance package. Completed forms can usually be turned in during orientation or mailed to the College's Student Health Services.
If you haven't done so already, sign up for your on-campus housing – this is often a separate deposit. You may also have to indicate on a special form if you are living off-campus so you don't get charged for campus housing. Do this as soon as possible; spaces fill up fast! Meal plans are also required for most students who are living on-campus in a freshman residence hall. Students wishing to live off-campus can take advantage of services offered – look for some sort of Off Campus office or ask if study rooms, etc are available.
You will also need to make sure you have accepted your financial aid package and understand which items are loans and which are grants or scholarships. Please ask the Guidance Office for help if you have any questions! You will also need to fill out the forms to apply for the loans you have been assigned. This should be done as soon as possible. The first year, the process requires a great deal of reading and agreeing to the terms of the loans. Take your time and do it properly so you really understand what the interest rates will be, your term of repayment and if interest is charged while you are in school.
If students are receiving a scholarship or assistance from a source other than the college or the government, the sponsor must often notify the Student Accounting Department in writing on or before the beginning of the semester. The notification should be on the organization's official letterhead and contain the student's name, their college ID number and the amount of the scholarship and the applicable semester.
If you took a course at a college or received credit for a college in high school course taken at PHCS (for example: Wilderness Studies I or III), you need to ask the college for an official transcript to send to your college if you want the credit to transfer. You may often need to attach the transcript to a transfer request form from the college you will be attending this fall.